Tudor & Associates, Inc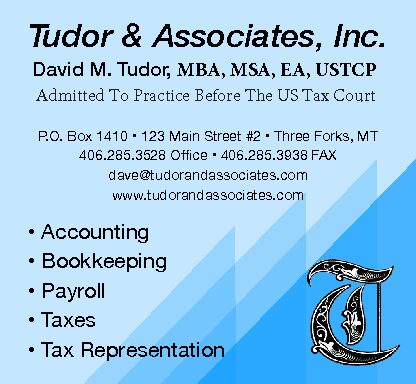 Tudor & Associates, Inc., is an Enrolled Agent firm located in Three Forks, MT – the headwaters of the Missouri River. Initially serving southwestern Montana, Tudor & Associates, Inc. now has clients throughout the United States. We provide tax services for individuals, partnerships, LLCs, sub S corporations, C corporations, trusts, and estates. We meet the daily needs of our business clients by providing monthly bookkeeping, payroll, sale tax, financial compilations, and IRS representation.
David M. Tudor is admitted to practice before the U.S. Tax Court.
Please contact us by phone 406.285.3528 or email [email protected] for a free one (1) hour consultation.
Categories: Accounting/Tax, Tax Prep/Bookkeeping/Consulting
123 S Main St #2
Three Forks, Mt 59752
Contact Name: Dave & Julie Tudor
Please login here to update your business.