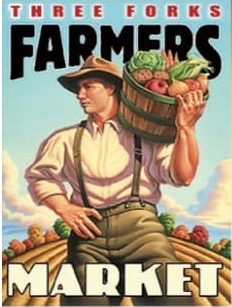 Every Thursday 4-7 pm
between Memorial Day & Labor Day weekends!
The Three Forks Farmers Market is a favorite weekly community event enjoyed by all! Shop for local hand-made goods, locally grown produce and our Chamber members.
Location
John Q Adams Park – grassy area near Historical Society Depot
Vendors
Farmers Market Vendors are invited to take part in the Three Forks Farmers Market. Registrations for Temporary or Reserved Vendor Booths are accepted.
Vendors must Make it, Grow it, or Bake it to participate and/or be a Chamber Member.
Reserve vendors/chamber members who return their registration on or by Monday, May 16 will have their business featured on a flyer that will be posted in Chamber businesses and have an interview posted on the Farmers' Market Facebook page!
Chamber Members can have a Vendor space for free.
Call the Three Forks Chamber 406-285-4753 or email tfchamber@gmail.com if you have questions about our rules and regulations.